This giveaway is now closed.
While Valentine's Day is traditionally about boys and girls and their chocolates and their flowers, we prefer to be a little bit more expansive in how we conceptualize this day to celebrate
love
. Whether or not the traditional circumstances apply to you, we encourage you to think outside the box and embrace the
love
you have for all those awesome people in your life, whether it's a spouse or partner or child or parent or friend or pet or colleague. And of course, yourself!! If you think about it, it's pretty great that we have a special day set out of 365 to celebrate connecting with someone.
So, we have something special to celebrate you!!! We're giving away a
$150 dollar American Express gift card
this Valentine's Day!! Yes, one hundred and fifty bucks! That's like seven and a half posts worth of cash here at S/20! The gift card is generously supplied by AOL Shopping. So here's the details on how you can snag it for yourself.
The sweepstakes begins January 27th at 12:00AM PST and runs through 12:00AM PST on February 6th. To enter, fill out your name, email address, and a link to a Valentine's Day gift under $20 (and let us know who you'd gift it to!) in the form below. To get some ideas, check out the
Valentine's Day gifts
at AOL!
Open only to legal residents of the United States 18 and older.


Here's my pick. Like flowers, but more permanent, with less effort, already in a gorgeous vase, and if I may say so, prettier. And $14.95! Who would I give it to? Well, I'm not eligible to enter the giveaway, so I'm not telling...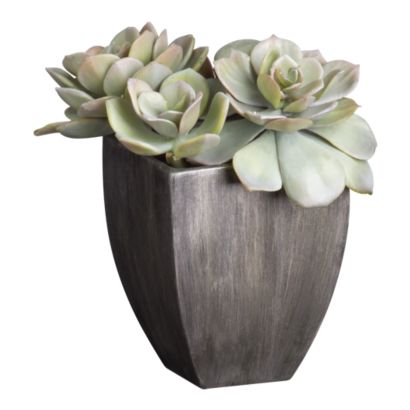 Bonus entries: Please enter your complete bonus entries in a comment below. In your comment, leave the name and email address you originally entered with.

There will be one winner, who will receive a $150 American Express gift card. The winner will be chosen by random.org. The winner will be contacted by email. If the winner does not respond in 3 days, another drawing will be completed. The prize is supplied by AOL Shopping.


Valentine's Day Sweepstakes Rules

1. Contest Eligibility: Stuff Under Twenty Valentine's Day Sweepstakes is open to individuals who are legal residents of the 50 United States (including the District of Columbia) who are 18 years of age or older. Employees of Stuff Under Twenty, AOL Inc., their advertising or promotion agencies,those involved in the production, development, implementation or handling of Giveaways, any agents acting for, or on behalf of the above entities, their respective parent companies, officers, directors, subsidiaries, affiliates, licensees, service providers, prize suppliers and any other person or entity associated with the Sweepstakes (collectively "Sweepstakes Entities") and/or the immediate family (spouse, parents, siblings and children) and household members (whether
related or not) of each such employee, are not eligible.
2. Entry: To enter the Stuff Under Twenty
Valentine's Day Sweepstakes, fill out the entry form (this is the mandatory entry). The required field are name, email address, link to a Valentine's day gift under #20, and answer to the question, "Who would you gift it to?". There are six additional possible entries. For each complete entry, leave a comment on the giveaway blog post indicating that the entry is complete. The six additional entries are (1)
Post about this giveaway on your blog and leave the link, (2)
Become a fan of Stuff Under Twenty on facebook, (3)
Share a link to Stuff Under Twenty on your facebook page and leave a link,
(4) Add Stuff Under Twenty to your blogroll and leave a link,
(5) Tweet about this giveaway and leave a link, and
(6) Become a follower of Stuff Under Twenty through Blogger.
Each submission will result in one (1) entry. You can enter the Sweepstakes seven times in total. The use of any agencies or automated software to submit entries will void all entries submitted by that person.
3. Prize: The prize of the Stuff Under Twenty
Valentine's Day Sweepstakes is a $150 American Express Gift Card, provided by AOL Shopping (www.aolshopping.com). The winner is responsible for any taxes and fees associated with receipt or use of a prize.
4. Entry Period: Stuff Under Twenty will run the Sweepstakes on its site from 12:00 AM PST on January 27, 2011 to 12:00 AM PST on February 6, 2011.
5. Drawing: On February 6, 2011, Stuff Under Twenty will select the name of the potential winner in a random drawing of all eligible entries received during the Entry Period. The potential winner will be contacted via email and will be asked to provide his/her full name, age and mailing address
within three days. If a potential winner does not respond within this time frame, Stuff Under Twenty may select an alternate potential winner in his/her place at random from all entries received during the Entry Period.
6. General Conditions: In the event that the Stuff Under Twenty is impaired in any way, Stuff Under Twenty may, in its sole discretion, (a) suspend the Sweepstakes to address the impairment and then resume the Sweepstakes in a manner that best conforms to the spirit of these Official Rules; or
(b) award the prizes at random from among the eligible entries received up to the time of the impairment. Stuff Under Twenty reserves the right in its sole discretion to disqualify any individual it finds to be tampering with the entry process or the operation of the Sweepstakes or to be acting
in violation of these Official Rules or in an unsportsmanlike or disruptive manner.
7. Release and Limitations of Liability: By participating in the Sweepstakes, entrants agree to release and hold harmless the Sweepstakes Entities from and against any claim or cause of action arising out of participation in the Sweepstakes or receipt or use of any prize. Entrant waives the right to claim any damages whatsoever, including, but not limited to, punitive, consequential, direct, or indirect damages.
8. Disputes: Except where prohibited, entrant agrees that any and all disputes, claims and causes of action arising out of, or connected with, the Sweepstakes or any prize awarded shall be resolved individually, without resort to any form of class action.
9. Sponsor's name and email address: Stuff Under Twenty // thesignificantothers@gmail.com
10. Email to request winners list: Stuff Under Twenty // thesignificantothers@gmail.com